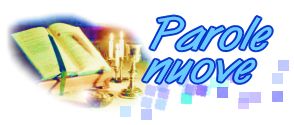 PRESENTATION
It is a simple instrument to better understand the Sunday Gospel; it has born thank to the good will of some priests that, from time, write on internet, put on-line or send reflections on sunday liturgy.
For priests it can be an help for the preparation of Sunday homily.
If you enter in New Words, every week you will have the possibility to receive easily in your email address either the sunday lectures or some reflections on the those lectures. it is possible to record to one, or more, or all the authors.
authors
Per iscriverti e ricevere i commenti basta mandare un'email a YahooGroups:
1. Clicca sull'autore di cui desideri ricevere le omelie per mandare l'email vuota;
2. segui le istruzioni che ti arriveranno da Yahoo in un'altra email che riceverai subito dopo: ti sarà chiesto di cliccare su un apposito link per confermare la tua iscrizione;
3. dopo aver cliccato sul link, verrai iscritto e riceverai nella tua casella postale i prossimi commenti inseriti.
- Commento feriale:
pn-commentoferiale-subscribe@yahoogroups.com
If there is something not clear or you have some problems, write us.